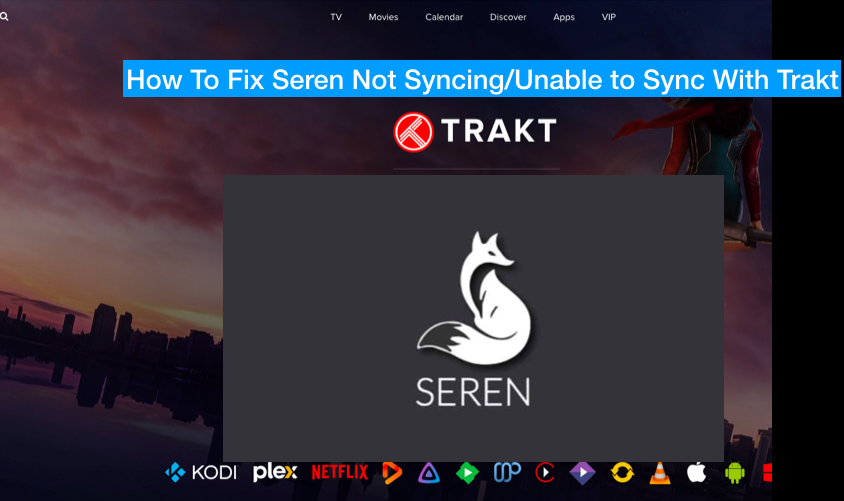 Have you ever been into trakt not working issues with seren addon like Seren unable to connect to Trakt. Then you might have installed this kodi addon with trakt.tv/activate in a wrong direction. So, in order to resolve any issues of this specific addon then you have to unsync and then resync it by using the below mentioned step by step installation method.
Usually there are few more seren trakt error such as seren unable to contact trakt, seren unknown error connecting to trakt and many of our followers asked query i.e., seren trakt not working. So if you're facing any one of these errors with seren and trakt then you must proceed with the below given step by step procedure. Of course do not skip any single step to get resolved with these issues.
How to Setup Trakt in Seren Kodi Add-on
If your seren wont connect to trakt then you need to follow the below simple steps that can reconnect your addon with the trakt, then you can resolve any issue of seren unknown errors and unable to contact Trakt errors.
First of all you need to go back to the "Seren Home Screen" and there you have to chose "Tools"
Now tap on "Trakt Sync Tools"
Click on "Yes" option
Now visit "https //trakt.tv/activate" and there you have to type in the code/pin which is appeared on your screen.
Finally select "OK" when the seren has successfully been paired with the trakt.
Every restart clears the trakt authorization, you can try updating Seren again (click on versions). Watch the toast notification for errors.
Now you can enjoy all the seren kodi addon features through your trakt application. So why late enjoy your favorite shows.
If you're still not resolved seren unable to contact trakt 2021 then you may need to clear your cache. For that reset your modem / router / device and just wait all you can do .
Or you can follow this procedure
First of all "go into seren"
Then click on "tools" option
And then "clear all cache"
And from there go into "trakt sync tools"
After that you have to "clear all metadata"
And then chose to "force a sync"
Then "restart your kodi"
After you've done with the above procedure you might seen the good result in resolving the issues called seren unknown error connecting to trakt follow the steps above and then try once again with the first method called how to set up trakt in seren kodi addon.
Conclusion
That being said guys! If you are new to this seren and trakt activation then you must follow the above procedure once in order to pair both of them. If you have any talks or solutions regarding this topic then feel free to leave a comment beneath in the comments section and i love reading them and the viewers of this blog as well. That being said! I hope you will have a wonderful day and as always happy watching my friends.